Необходимые продукты:
About us
Способ приготовления:
About us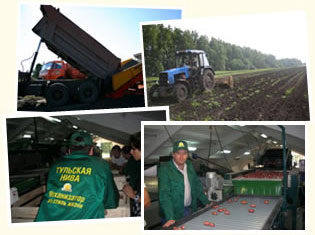 Since 2002 we have been growing up potatoes. We are the same as common people. But we are cheery, courageous, pertinacious, reckless and sportsmanlike.
We love reading books, watching TV, leading happy life, growing up our children and our potatoes, studying and teaching, living. We work to come to one simple thing – to find the tastiest varieties of potatoes all over the world. We would like to plant them in our village and let you taste. For this we have assembled 150 people and working to solve this problem.
We are opened for You, for any kinds of ideas – smart, mad, brilliant such as how to make square potatoes, color potatoes with raspberry smell, growing potatoes at the bottom of the ocean or in a plane, making potatoes tops more beautiful then roses and many others. In our village people, horses, cows, dogs, pigs, cats have equal right and opportunities for fulfilling their ideas. With love for all animate nature – WE (boys and girls from ZAO "Tulskaya Niva")
Our products